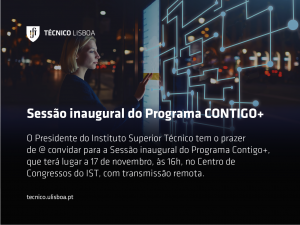 The Contigo+ program is an initiative of the Pedagogical Council to provide and accelerate the enhancement of teachers' teaching skills in the contemporary world. The program aligns with the best motivational practices of fit with the institutional mission, vision and aspiration, practiced in leading schools and also in the corporate world.
The goal is to provide teachers participating in the With You+ program with a reflection on the interpersonal Teacher-Student relationship adapted to today's reality and on valuing diversity, crucial pillars for the development of the University and the promotion of its culture. The Program also aims to innovate teaching tools and strategies to deal with the new challenges in the contexts of Higher Education in the areas of Science, Technology, Engineering and Architecture.
Today's technological, social and communication scenarios are transforming the role of the teacher more into a source of knowledge and inspiration than a source of information, turning learning into a time of personal exploration. They are also demanding a new balance between depth and breadth of what is transmitted (e.g. see http://www.cdio.org/files/CDIO_Syllabus_Report.pdf).
This situation leads to the need to change traditional teaching practices, very much captured and dominated by the teacher as the central character in the classroom. The international trend is for classes to become more of a collaborative space, where the teacher guides and directs teams, differentiating himself from the students by his greater experience.  Thus, educational teaching programs are increasingly based on the phases that define the life cycle of a product – Concept-Design-Implementation-Operation (CDIO model, see for example http://www.cdio.org/about). This transformation is setting new standards for robustness of outcome, key success indicators, and feedback procedures to ensure continuous improvement.
The Contigo+ Program consists of Trainings targeted at Teachers to:Identify and exchange practices to support Teachers in this change. These trainings consist of:
Lectures for exposure to international examples;
Use of digital tools to guide students' individual or team work;
Familiarization with "Feedback and Feedforward" practices, presential or through digital tools, that support project-based learning
The Contigo+ Training Sessions will be organized
in the form of regular Scientific-Pedagogical Workshops, at least once a semester
in the form of MOOCs for online attendance;
or still included in events such as Department Days or similar that, upon proposal of their organizers, are approved by the President of Técnico, the Scientific Council and the Pedagogical Council, as "Contigo+" trainings similarly to the "Distinguished Lecture".
Finally, the Contigo+ program is one of the four components of an integrated program for Teaching Quality at Técnico, which already includes three other components:
Pedagogical Innovation Projects (already underway since 2018);
Interactive Data Analytics and Visualization Program, namely for decision support (started with tools for the Analysis of the Intensity and Distribution of student effort across semesters and for the Analysis of Academic Efficiency and Quality of Course Unit Data);
Program for increasing Student Success in the Fundamental Sciences (Mathematics, Physics, Chemistry and Biology) using online and recorded classes, which is being initiated by the Mathematics Department.

November 17th, 4pm – Congress Center IST | Webinar
Inaugural Session of the Contigo+ Program
Webinar recording available on Youtube
16h – Opening by IST President Professor Rogério Colaçoe Presentation of the Contigo+ Program by the President of the Pedagogical Council Professor Teresa Peña
16h10 – 16h45 Professor Francesc Torres (Rector Universitat Politècnica de Catalunya – 2017-2021)
Some reflections on STEM Higher Education – presentation
16h45 – 17h Discussion
17h -17h20 Professor Ramon Bragos (Expert on Engineering Education, School of Telecommunications Engineering , Universitat Politècnica de Catalunya)
Ten years of experience of Project-Based and Challenge-Based courses in ICT Engineering at UPC according to the CDIO standards
17.20-17.30 Discussion
17h30-18h Conclusions with Audience Participation
18h Closing
2nd Session of the Contigo+ Programme: "Pedagogical management of Integrating Project CUs and CUs for +200".
December 13, 15h30 | Meeting Room of Civil Engineering Pavilion (2nd floor)
Registration
15h30 – 16h45 Round table "Integrative Projects Operation", moderated by Professor Carlos Santos Silva
16h45 – Coffee break
17.00-17.30 Lecture "UC basic training, 1st year, 200+ students, MEPP: challenges, successes, failures", Professor Luís Lemos Alves ( DF)
17h30-17h45 – Discussion
The session allows to exchange experiences and methods between various Departments and courses. Your participation is important!